In just 24 months, Woocommerce rose to dominance in the eCommerce arena with their free plugin that let's anyone turn a WordPress website into a full-fledged online store. Their product spread like wildfire, and today it powers more active eCommerce stores than Magento, which has been around for more than six years. So how did a free shopping cart plugin become a dominant force in a competitive industry?
WordPress was clearly ripe for disruption in this market, and Woothemes developed a framework that just might be the best eCommerce platform ever conceived. WordPress rules the web publishing space, powering nearly 20% of all websites in the world. That amounts to 60+ million websites total. But despite its widespread adoption as a web publishing platform, not a single worthwhile eCommerce option existed. Sure, there were some modest solutions like Cart66 and Wp-Ecommerce, but if you wanted to build a robust online store, your options included open-source platforms like Magento and Opencart or hosted solutions like Shopify.
The United Coders of Woo
The Woothemes team, made of 30 employees who work remotely from all corners of the globe seems like a really great place to work. As Joel Bronkowski describes his onboarding with the team, it's clear their values are built on trust and dedication to their cause.
I've yet to hear a Woo employee bicker about co-workers or management. While work hours and tasks are flexible everyone works incredibly efficiently, cohesively and hard. Everyone seems to love what they do, appreciates who they work for and takes full ownership for their projects and/or products.
This common thread of intelligence and dedication, combined with a fraternal sort of respect for one another's creativity and suggestions defines the sort of teams that have built hugely successful products in recent years. It's true that you no longer need a corporate office, or a strict hierarchy of titles and positions to build a strong business. Nor do you need a big name marketing brand to spread your message. In fact, those things would probably strangle growth for companies like Woo.
Creating a perfect product fit using a lean business model
The Woo team are devout believers in the "Build, Measure, Learn" business model made popular by Eric Reis' book, The Lean Startup: How Today's Entrepreneurs Use Continuous Innovation to Create Radically Successful Businesses
. This helps them design a product, measure how well it performs, and adapt it to customer's needs in rapid succession. This agile development cycle brings steady and reliable improvements to both the core plugin and its extensions that add extra layers of functionality. As users adopt these new features and make suggestions, the Woo team can quickly adapt and shape future releases of each extension.
They had a perfectly clear vision of how to match their product to a demanding market. As Ryan Holiday writes in his book, Growth Hacker Marketing
, "With product market fit, we don't need to hit the front page of the New York Times to announce our launch. We need only to hit the New York Times of our scene. We're trying to hit a few hundred or a thousand key people—not millions." With it's huge base of users, and blogs dedicated to all things WordPress, the Woo team had access to a market of users who were ready to adopt, test, and help improve their product.
Generating mass appeal from the ground up
As you'd expect with anything for WordPress, it's pretty easy to start out using this plugin. I think that's part of the reason for it's widespread adoption across all size eCommerce sites, from large sites with thousands of SKUs to the smaller ones selling one or two products. One of the most daunting parts of setting up an online store is simply learning how to get it done, and I think one of the biggest reasons for Woocommerce's success is the low barrier of entry for anyone looking for a straightforward way to build an ecommerce store.
WooCommerce has seen huge adoption rates across all size websites, from ones in the top 10,000 to the smallest most obscure sites that rank deep in the millions.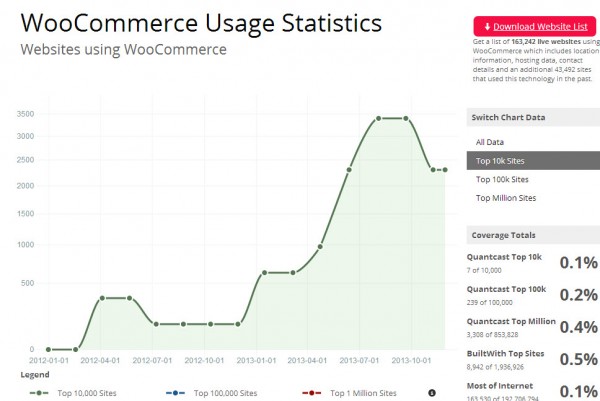 The chart below shows a comparison of the different size websites that have adopted Woocommerce as a platform. As you can see, the adoption rate for smaller sites (top 1 million ranked) has been astronomical, proving to be a viable choice for small to mid-size stores.
Here you can see how Woocommerce has grown compared to Magento, OScommerce and Bigcommerce. While most platforms have seen slight growth, WooCommerce has been marching straight up the mountain and heading to the top.
Modular means lightweight and adaptable
The modular nature of WC makes it a force to reckon with. In my opinion, dedicated ecommerce platforms are too unwieldy. They tie down customers, and often become overly bloated and sluggish to adapt to changes in technology. With WC, you have a sea of open source developers AND a team at Woothemes that creates amazing extensions for it. This sort of flexibility also means the core platform stays lightweight. Users can add extensions based on their needs, and if there's not a solution yet, you can bet someone's working on an extension to address the need.
My personal experience with WooCommerce
In 2010 I started building Hot Tub Cover Depot as a personal eCommerce learning project. I was using WordPress + Cart66, with an integration into Gravity Forms to handle the order forms. Shortly after that, Woothemes bought the Jigoshop ecommerce plugin and started working it over. With Cart66, I felt quite limited and had to spend a lot of time making it work how I wanted. While it worked out alright, I was never satisfied.
Meanwhile I watched with envy as this Woocommerce gathered steam, with its amazing plugins built by a crowd of developers and backed by a supportive and helpful community of users. In the beginning of 2012 I sat down and migrated the site from Cart66 to Woocommerce. I haven't looked back since. I can say for sure that it's one of the most outstanding products ever made. Watching the development has been impressive.

And I'm not alone. WC has seen a rapid adoption that's simply staggaring. In two years they amassed almost two million downloads and 170k installs on live sites. Compare that to Magento and Opencart, two much older and more established ecommerce platforms, each with a comparable number of installs and you begin to understand how amazing that is. When you compare its growth against all the biggest ecommerce platforms, their line on the chart takes a dramatic turn upward.
An amazing community and owner
If you're unfamiliar with Woothemes, let's get you caught up real quick. Adii Pienar is the CEO of the company and has been a respected face in the web development community for many years. He's built the epitome of a bootstrapped, profitable, and proud company. In fact, when I was having trouble at one point with the license for a plugin, and at my wits end, I emailed their support team, venting my frustrations. Shortly after that, I received an email from Adii himself, who expressed his sympathy and helped me resolve things. It was quite humbling, and surprising even, that he was taking the time out of his busy day to personally help me with what was probably a relatively small issue on their end. When the CEO takes that sort of initiative, it really says something about the character of a company.
There are few products that I'll happily fork over money year after year for, and WC is one of them. Some of their other fans expressed anger when prices on popular extensions doubled or tripled. But to be honest, I thought their initial prices were always fairly low. They deserve every penny for their hard work, and I'm excited to see where they go. I imagine they're nipping on the heels of Shopify and the big dogs should certainly be worried. It will be interesting to see how much more ground WooCommerce covers in 2014, and I'm excited to see what happens.
Some websites using WooCommerce:
Do you use WooCommerce to power your online store? Share your site and your experience with it in the comments. I'd be interested to hear about others' stories.