8 tips for creating an effective welcome message
In my post, "How one winery increased its mailing list subscribers by 500%" I reviewed some basic ways to use your website as a tool to collect more leads. Email marketing is the best way to grow your online sales, and I consider listbuilding as one of the top activities you should focus on if you have a website. To follow up with that post, I wanted to share some insight into how you can craft the perfect welcome email for those new subscribers.
When someone signs up for your email list, two things should happen. First, they should land on a "thank you" page that directs them back into your website. After that, your new subscriber should get a friendly welcome email. Now, most email systems will generate an automated "thank you for subscribing" email, but you want to add your own touch to make it really effective. This is your first time hitting their inbox, and the welcome email bring more substance than a simple "thanks for signing up" message does.
This is your chance to make an impression, and nudge that new subscriber back to your site. Your goal at this point should be to make the visitor feel welcomed and interested. Use some creativity, and think of the main things you want to share with someone who's just getting to know your brand.
First, let's look at what NOT to do: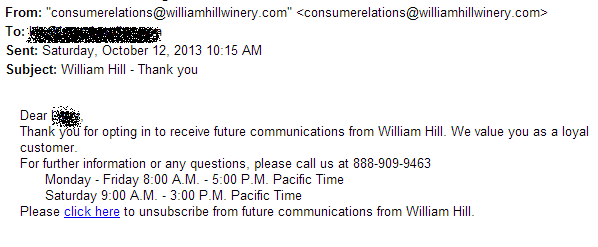 There's nothing here that entices me to head back to the William Hill site, and it's very impersonal and stale. Who is "consumerrelations" anyway? If they value me as a loyal customer, why not show me a little more love by giving out a one-time discount, or sharing more information about what makes them so deserving of my supposed loyalty?
Compare that to the welcome email that Sterling Vineyards sends to new subscribers: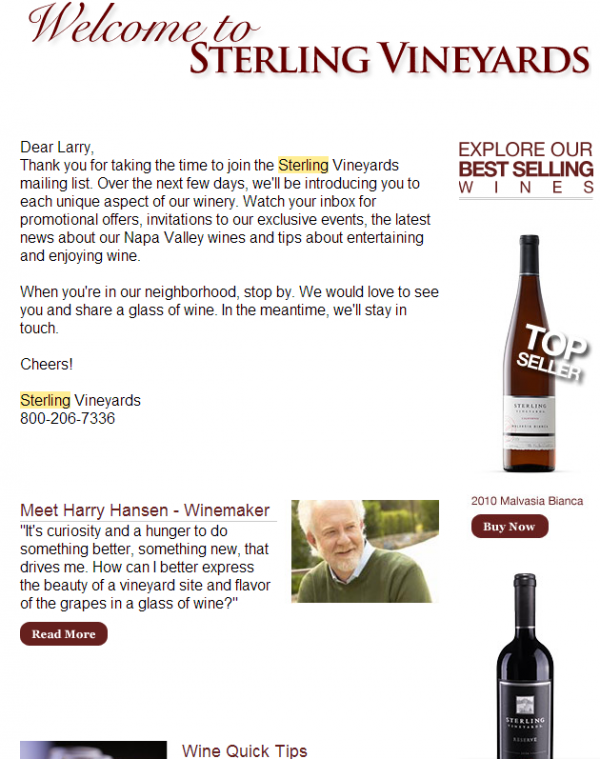 I didn't include the whole thing because it's so long, but you get the picture. This is actually the first of a series of emails that new subscribers will receive. In order to setup a series of emails like this, you'll need to use autoresponders – a standard email that is triggered when a certain event happens, such as a new signup, new order, or abandoned cart for example.
An effective welcome email should:
Be personable. They get the first name of the subscriber in there, along with a friendly "thank you" message that's a lot less robotic sounding than the William Hill one.
Manage their expectations. They clearly state what the new subscriber will receive in future emails – "Over the next few days, we'll be introducing you to each unique aspect of our winery. Watch your inbox for promotional offers, invitations to our exclusive events, the latest news about our Napa Valley wines and tips about entertaining and enjoying wine."
Show off a little. But just a little bit. New subscribers will see Sterling's most popular wines along the right-side of the email, which adds a subtle selling point without hitting you over the head with a "BUY OUR WINES" sort of message.
Reward them instantly. Although this example from Sterling doesn't include a discount or offer, the second or third email in their welcome series does. When someone subscribes to your newsletter, they're at a peak time of interest, and now is the best time to capitalize on their interest by offering them something of value. It's very common to see a one-time discount, or free wine tasting invitation, but you could also offer them a free tourist guide or ebook for example.
Go behind the scenes. Meet the winemaker. New subscribers probably aren't that familiar with your company, so why not introduce them to some of the important faces behind the company? Consumers want to learn about a brand, and this is the perfect sort of thing to share with new faces.
Educate and inspire. Wine quick tips. By sharing basic information and tips like this, you can impart knowledge upon your reader. Hopefully it's useful enough so they'll share that tidbit with friends, and will always remember where they learned it.
Remind them of benefits. In this example, they also provide a short reminder about the discounts that wine club members enjoy.
Connect on social networks. You should always include a small call-to-action that encourages readers to connect with your Facebook, Twitter, and other social networks.
The purpose of all this is to make your brand sticky, and drive that person back to your website. Creating a welcome email like this doesn't require a ton of time. Chances are, you have most of this content on your site already. This gives you a nice opportunity to bundle your best features, information, and kind words in one place.
Don't make the mistake of thinking that your new subscriber's journey ends when they sign up! A well-crafted welcome email can be the nudge that sends them down the buying funnel.