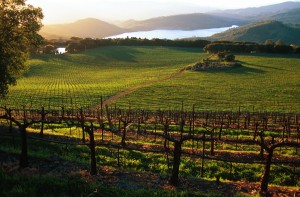 I have spent the past three years living in the Napa Valley, and during that time I visited many wineries. From the big names like Mondavi and St. Supery on Rt. 29 to the smaller family-run operations like Hendry and Summit Lake way atop Howell Mountain, I've had the chance to experience a range of different ones. My favorites though are the wineries you find off the beaten path; the ones tucked away in the hillsides that span the horizon. That's where you'll find the best experience, real people, and truly special wines.
Of all the places I've been to, there are a few that stand out. Chappellet Winery in St. Helena is one such winery. They're located at the top of a mountain, way up in St. Helena, and remain one of the oldest family-run wineries in the area. The hillside surrounding the winerys is known as Pritchard Hill, and it's one of the premier growing locations in the valley, producing some extraordinary Cabernet. The Chappellet wines bring big flavor, balance, and structure with them; in part due to the legendary winemaker Phillip Corallo-Titus who has been there since 1990, carefully creating these spectacular wines.
One of the reasons this Napa winery is so special to me is because of the location. Be prepared to drive up some meandering mountain roads before you arrive, and be sure to check on the map first because your cell phone and GPS likely won't work once you're in the hills. Inside the winery, you'll be treated to an intimate tasting in the barrel room – just you and the wine. No elbowing for space at a crowded bar here…just a selection of four wines. And that's how I like it – the chance to actually talk with the people who work there, learn the history, and examine wine in a more focused and personal way is the best way to do a tasting.
For anyone planning a visit to the Napa Valley, may I suggest a visit to Chappellet Winery. Plan ahead, and make reservations, as they are by appointment only.
More Information:
1581 Sage Canyon Road, St. Helena, CA 94574
Telephone: 707-963-7136   1-800-4-WINERY
Fax: 707-963-7445  Email: customerservice@chappellet.com